Recommended By:

"…This wickedly sharp, carbon steel 8-inch Chef Knife from STEELPORT should be in your arsenal…"

"The Best Made-in-USA Kitchen Knife: STEELPORT Chef Knife."

"This new American-made Chef's Knife will become the most versatile blade in your kitchen."

"Here are some of our favorite kitchen tools…Handcrafted in Portland, the 8-inch STEELPORT Knife Co."
"…It has heirloom written all over it."
I love the STEELPORT knife! I use it every day, the great balance and feel definitely makes the cut!
Aaron Franklin, Owner of Franklin Barbecue in Austin, Texas.
I'm loving this carbon steel chef's knife from STEELPORT Knife Co. – super balance, killer edge, plus the handle (Oregon maple) is cool… It's a joy to use.
Ray Isle, Executive Wine Editor of Food & Wine Magazine
STEELPORT's are beautifully balanced, with blades made from American-forged carbon steel.
Julia Moskin, The New York Times
STEELPORT is the perfect knife for me. Handles all of my duties at work yet Durable enough to use at home with the family. A knife that embody a true work life balance
Gabriel Rucker, James Beard Award-winning Chef
Absolutely exquisite. All aspects of the knife are so special. Design, materials and craftsmanship combine to make a knife that I look forward to using the rest of my life.
Paul Kahan, James Beard Award-winning Chef
It's my go-to at-home knife now. Keeps a solid edge over time and is pretty damn indestructible. Would definitely recommend for those at a home level or pro.
Eric Rivera, Chef/Owner of ADDO in Seattle
Using a Steelport feels like it was made by someone with so much experience and passion for the art of knives, because it was. Everything about it feels right, and knowing where it comes from feels even better.
Doug Adams, TopChef Season 12 Finalist
It's made with all US materials and crafted right here in Portland by Eytan and his team. This 8″ chef knife is incredibly well balanced — razor sharp with none of the fuss and holds its edge for what seems like forever. This knife is everything.
Bonnie Morales, Chef/Owner of Kachka
STEELPORT Knife Co. is a small team dedicated to producing the finest trusted kitchen knives available. Their work combines premium materials, traditional forging technique, and American heirloom craftsmanship.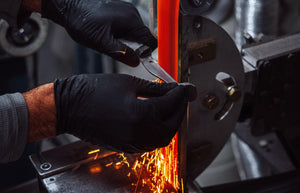 STEELPORT Knife Co. believes in craftsmanship without compromise. Each knife we produce has a beautiful individuality only found in handcrafted products that use natural materials. No two wooden handles or blades can have identical grain patterns, and each knife will patina a little differently over time, telling a story of all the meals it has helped prepare.

We hold every product we make to unwavering, extremely high quality standards, so STEELPORT Knife Co. offers a Lifetime Warranty for all products through proper use.