The Wellborn 2R Ranch 14-inch cutting board from Fifth & Cherry features a generously sized reversible cutting surface, yet is compact enough for kitchens with smaller counter and/or storage space. Renowned for it's stunning color, each board is meticulously handmade using traditional woodworking techniques, resulting in a one-of-a-kind piece that's both functional and beautiful.
Lifetime Warranty & Free Refinishing

The longest-lasting, best-performing boards ever made:
Steel-reinforced end-grain cherry wood

Staggered seams for extra strength

A proprietary 28-step process that includes hand clamping and gluing to prevent delamination.
Handcrafted in the USA from 100% responsibly sourced cherry wood. Each of our boards comes with a Lifetime Warranty that includes complimentary refinishing for life, which means this is the last cutting board you'll ever have to buy.
Board Details:
Dimensions: 14" wide x 14" deep x 1.75" high
Weight: 7 lbs.
Care: Hand wash only. Do not wash in the dishwasher. Avoid using harsh chemicals.
Have questions? Visit the Fifth and Cherry FAQ page to find answers to our most asked questions.
All Natural Angus Beef
No antibiotics. No added hormones. Nothing Artificial. Ever! Cattle eat a vegetarian diet of top-quality grains, forages and essential nutrients. Cattle receive treatment when needed to restore health, but they are no longer eligible to be in our Verified Natural Beef Program.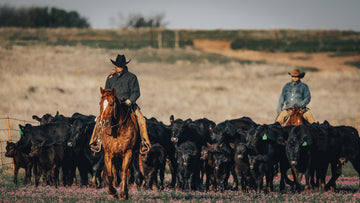 Sustainably Raised
We are dedicated to our cattle and respect for the land. At Wellborn 2R we want every animal in our care to "live it's best life" every day and make every effort in the proper care, treatment, and humane processing of our animals. Additionally, we implement conservation practices that help sustain or improve the environment for future generations. We have better beef, produced in a better way.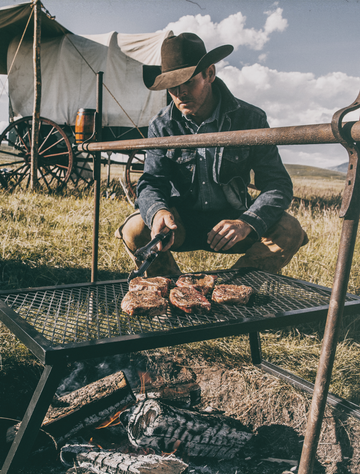 Where Food Comes From (TM) Verified
We go the extra mile to ensure traceability of each animal on our ranch – from birth to harvest. All of our cattle are Black Angus breed, age, and source verified, as well as Verified Natural Beef through WFCF's high standards.
Read more about WFCF here.
The Finer Details
Packaging
Individually wrapped & vacuum sealed to preserve freshness and integrity. Steaks are flash frozen before shipping to lock in flavor and will arrive frozen or partially thawed.
USDA Grade
USDA Prime or High End Choice, 100% all natural Angus steaks with no hormones, antibiotics or additives.
Hand Cut
Each steak is hand cut and trimmed by our butcher in the butcher shop on our ranch.


Wet Aged 30 Days
Wet aged 30 days for optimum tenderness and the dense marbling provides incredible flavor.