Bone-In Cowboy Ribeye Steak
At Wellborn 2R Ranch, we take immense pride in presenting to you our most exquisite offering, the Bone-In Ribeye. This limited-supply masterpiece showcases the pinnacle of our commitment to raising exceptional cattle and delivering the finest beef in the world.
Each Bone-In Ribeye is a work of art, hand-selected from our meticulously bred and pasture-raised cattle. We believe that greatness lies in the details, and that is precisely what sets our ribeye apart from the rest.
Let us paint a picture of unparalleled flavor and tenderness that awaits you:
Superior Marbling: Our Bone-In Ribeye boasts abundant marbling throughout the meat, creating those coveted streaks of rich, buttery goodness. This generous marbling, a result of our cattle's optimal genetics and the expert care they receive, ensures that every bite is succulent and bursting with flavor.

Bone-In Perfection: The presence of the bone adds an extra layer of succulence and depth to the flavor profile. As you savor each juicy bite, the bone acts as a conductor, imparting a remarkable richness that elevates the dining experience to new heights.

Hand-Cut Precision: Our skilled artisans meticulously hand-cut each Bone-In Ribeye, ensuring that it showcases the perfect balance of tenderness and thickness. From the first moment the knife glides through the meat, you'll know you're about to experience something extraordinary.

Uncompromising Quality: At Wellborn 2R Ranch, we adhere to the strictest standards of quality. Our cattle are raised with the utmost care, grazing on lush pastures that impart a natural and wholesome flavor to their meat. We follow sustainable and ethical practices, ensuring that every step of the journey from pasture to plate reflects our commitment to excellence.

Unforgettable Taste: Prepare to embark on a sensory journey as the robust flavors of our Bone-In Ribeye unfold. The perfectly balanced combination of marbling, tenderness, and bone-in richness creates a symphony of flavors that dances on your palate, leaving a lasting impression that you'll cherish long after the last bite.
All Natural Angus Beef
No antibiotics. No added hormones. Nothing Artificial. Ever! Cattle eat a vegetarian diet of top-quality grains, forages and essential nutrients. Cattle receive treatment when needed to restore health, but they are no longer eligible to be in our Verified Natural Beef Program.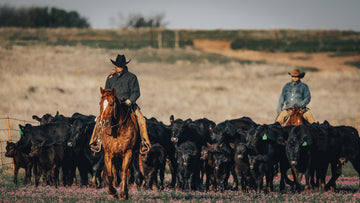 Sustainably Raised
We are dedicated to our cattle and respect for the land. At Wellborn 2R we want every animal in our care to "live it's best life" every day and make every effort in the proper care, treatment, and humane processing of our animals. Additionally, we implement conservation practices that help sustain or improve the environment for future generations. We have better beef, produced in a better way.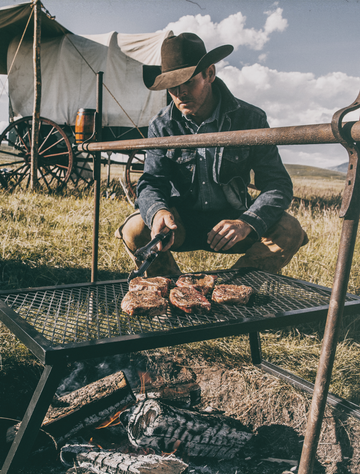 Where Food Comes From (TM) Verified
We go the extra mile to ensure traceability of each animal on our ranch – from birth to harvest. All of our cattle are Black Angus breed, age, and source verified, as well as Verified Natural Beef through WFCF's high standards.
Read more about WFCF here.
The Finer Details
Packaging
Individually wrapped & vacuum sealed to preserve freshness and integrity. Steaks are flash frozen before shipping to lock in flavor and will arrive frozen or partially thawed.
USDA Grade
USDA Prime or High End Choice, 100% all natural Angus steaks with no hormones, antibiotics or additives.
Hand Cut
Each steak is hand cut and trimmed by our butcher in the butcher shop on our ranch.


Wet Aged 30 Days
Wet aged 30 days for optimum tenderness and the dense marbling provides incredible flavor.


Thoughts on Bone-In Cowboy Ribeye
Best steak I can remember ever eating. Absolutely delicious. Thank you Wellborn!!!
Bone-in Ribeye
This is really a nice cut of beef. My wife and I shared one steak. I seasoned it with Montreal Steak Seasoning and then browned both sides on the grill at high heat. Then I moved the steak to the top small shelf in the grill away from the flame and let it cook to 140 degrees. It was pink inside and very, very tasty. Some of you might want to only cook it to temperature of 135. I think you will really enjoy this steak.
Great beef
We bought a package deal and the beef is so good. Was way better than we expected. We are definitely going back again.
Peggy B