The Butcher's Selection is a great way to get all the best Wellborn 2R offers in all-natural, no hormone, no antibiotic, incomparable tasting beef.   This box is filled with 30 pounds of fresh, hand-cut steaks, roasts, ground beef, and more and is enough for 80 meals! That's less than $5 a serving. Our beef is vacuum-sealed and stays fresh in the freezer for months.   Thaw or cook it straight from the freezer, you won't find anything like our beef anywhere. And, The Butcher Selection ships for free to Texas and Oklahoma with discounted flat rates everywhere else!
The Butcher's Selection Contains:
Choice of 4 Tenderloin Filets (5-6 oz) OR 4 NY Strips (12-13 oz) OR 4 Ribeye Steaks (12-13 oz)
2 Stir Fry Fajita Strips (16 oz each)
1 Flank Steaks (12-13 oz)
8 Cube Steaks  (2 lbs total)
4 Packs of Filet Mignon Tips (2 lb total)
2 Stew Meat Packs (2 lbs total)
1 Boneless Pot Roast (3-4 lbs)
5 Pounds of Ground Beef

5 Pounds of Ground Beef (FREE)
All Natural Angus Beef
No antibiotics. No added hormones. Nothing Artificial. Ever! Cattle eat a vegetarian diet of top-quality grains, forages and essential nutrients. Cattle receive treatment when needed to restore health, but they are no longer eligible to be in our Verified Natural Beef Program.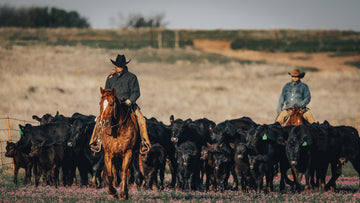 Sustainably Raised
We are dedicated to our cattle and respect for the land. At Wellborn 2R we want every animal in our care to "live it's best life" every day and make every effort in the proper care, treatment, and humane processing of our animals. Additionally, we implement conservation practices that help sustain or improve the environment for future generations. We have better beef, produced in a better way.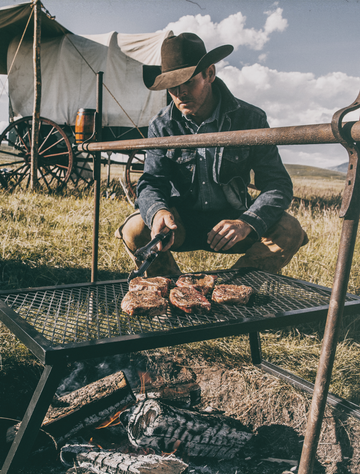 Where Food Comes From (TM) Verified
We go the extra mile to ensure traceability of each animal on our ranch – from birth to harvest. All of our cattle are Black Angus breed, age, and source verified, as well as Verified Natural Beef through WFCF's high standards.
Read more about WFCF here.
The Finer Details
Packaging
Individually wrapped & vacuum sealed to preserve freshness and integrity. Steaks are flash frozen before shipping to lock in flavor and will arrive frozen or partially thawed.
USDA Grade
USDA Prime or High End Choice, 100% all natural Angus steaks with no hormones, antibiotics or additives.
Hand Cut
Each steak is hand cut and trimmed by our butcher in the butcher shop on our ranch.


Wet Aged 30 Days
Wet aged 30 days for optimum tenderness and the dense marbling provides incredible flavor.


Great value, excellent taste
This is the second bundle we've had, first was a gift. We will continue to buy or beef from 2R for a long time. Great quality beef with an excellent flavor!
Amazing tasting
The best ribeyes by far. Love the quality of your beef.
The Best of The Best
Butcher's cut selection has a good variety of meats.